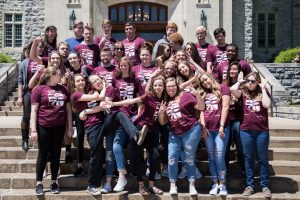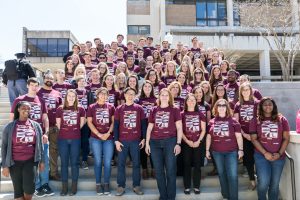 We are excited to begin preparing for National Biomechanics Day at Virginia Tech 2020!
Founded in 2016, National Biomechanics Day (NBD) is a celebration of biomechanics principles, research, and innovation across the United States and around the world. Biomechanics combines science, technology, engineering, art, and mathematics to offer engaging opportunities for both students and teachers. The 2016-2019 NBD events were hugely successful and offered the opportunity for students to participate in hands-on biomechanics activities. NBD gives students the chance to interact with undergraduate and graduate students, meet impactful faculty members, and get first-hand exposure to fundamental principles of biomechanics while having a blast in hands-on games and activities. Virginia Tech has been participating in NBD since 2016 and will continue with an exciting and fun filled event again this year. This year, NBD at Virginia Tech will take place on April 6, 2020. Several hands-on activities and competitions have been organized for the students throughout the day including activities involving balance, hop testing, ergonomics, human factors engineering, snake biomechanics, tissue mechanics, and helmet testing. This year, we will be expanding to include even more lab groups studying biomechanics! Check out some of the lab groups below that will be participating in NBD at Virginia Tech in 2020!
Granata Biomechanics Lab – https://www.granatalab.beam.vt.edu/
Orthopedic Mechanobiology Laboratory at Virginia Tech – https://vtwanglab.wordpress.com/
STRETCH Lab – https://www.vtstretchlab.com/
The Helmet Lab at Virginia Tech – http://www.helmetlab.com/
The Socha Lab – https://www.thesochalab.org/
We are currently accepting registrations for participation in NBD at Virginia Tech 2020! If you are a high school teacher or administrator who would be interested in arranging for a group of your students to participate in this event, please fill out this registration form. Since many pictures and videos will be taken throughout the event, we do ask that students have a media release form signed by a parent or guardian prior to the event. The media release form can be accessed here for your reference. A tentative schedule for the event is listed below, but is subject to change as the event draws closer.
Tentative schedule
9:00 – Students arrive at VT
9:00 – 9:30 – Welcome, information about the event, t-shirt handout, and group assignments
9:30 – 11:40– Lab Tours
11:45- 1:00– Lunch (provided)
1:00- 1:40 – Lab Tours
1:50 – Students depart
Check out the following links:
– National Biomechanics Day: http://nationalbiomechanicsday.asbweb.org/
– NBD Education: http://nationalbiomechanicsday.asbweb.org/nbd-media/nbd-education/ including:
– Links to previous NBD guides for teachers and students
– Design Challenge
– Video on Biomechanics Careers
– Running, Jumping, and Hitting: The Science of Sports video
For any additional information about NBD at Virginia Tech 2020 or how to get involved, please contact Cherice Hughes-Oliver at cnh4ph@vt.edu.